Regular price
$44.00 USD
Sale price
$38.00 USD
Unit price
per
Sale
Sold out
Shipping & Returns

Free standard shipping on orders over $75

Free expedited shipping on orders over $100

Satisfaction Guaranteed or get a Full Refund.
Care Instructions

Here are some tips to help you keep your products fresh for longer.

Make sure to store your body scrubs in a cool dry place. Cover your oils and scrubs after each use. Discoloration and change in consistency is normal with natural products but if you notice unusual smells or growths in your containers, throw away immediately.
The Honey, Be Supple Facial Duo is a pampering facial that will leave you with glowing, moisturized skin. 
Named in honor of the delicious nectar Honey Bee's make after pollenating our lavender, Honey, Be Supple Facial products may not have any honey in them, but they sure do smell sweet.
Made with Organic Rosehip Oil, Sweet Almond Oil and Crushed Lavender this duo is packed with This collection is perfect for maintaining a youthful complexion with its collagen boosting properties, while simultaneously offering protection from dangerous UV radiation.
Use before bed.
How To Use : 
1. Wet face with warm water
2. Apply Honey Be Supple Facial Scrub gently in a circular motion
3. Rinse with warm water 
4. Apply 2-3 drops of Honey Be Supple Facial Oil
5. Smile 
Keep Refrigerated 
Ingredients: Crushed Lavender, Lavender Essential Oil, Lemon Essential Oil, Pure Cane Sugar, Organic Rose-hip Oil, Olive Oil, Sweet Almond Oil.
Share
View full details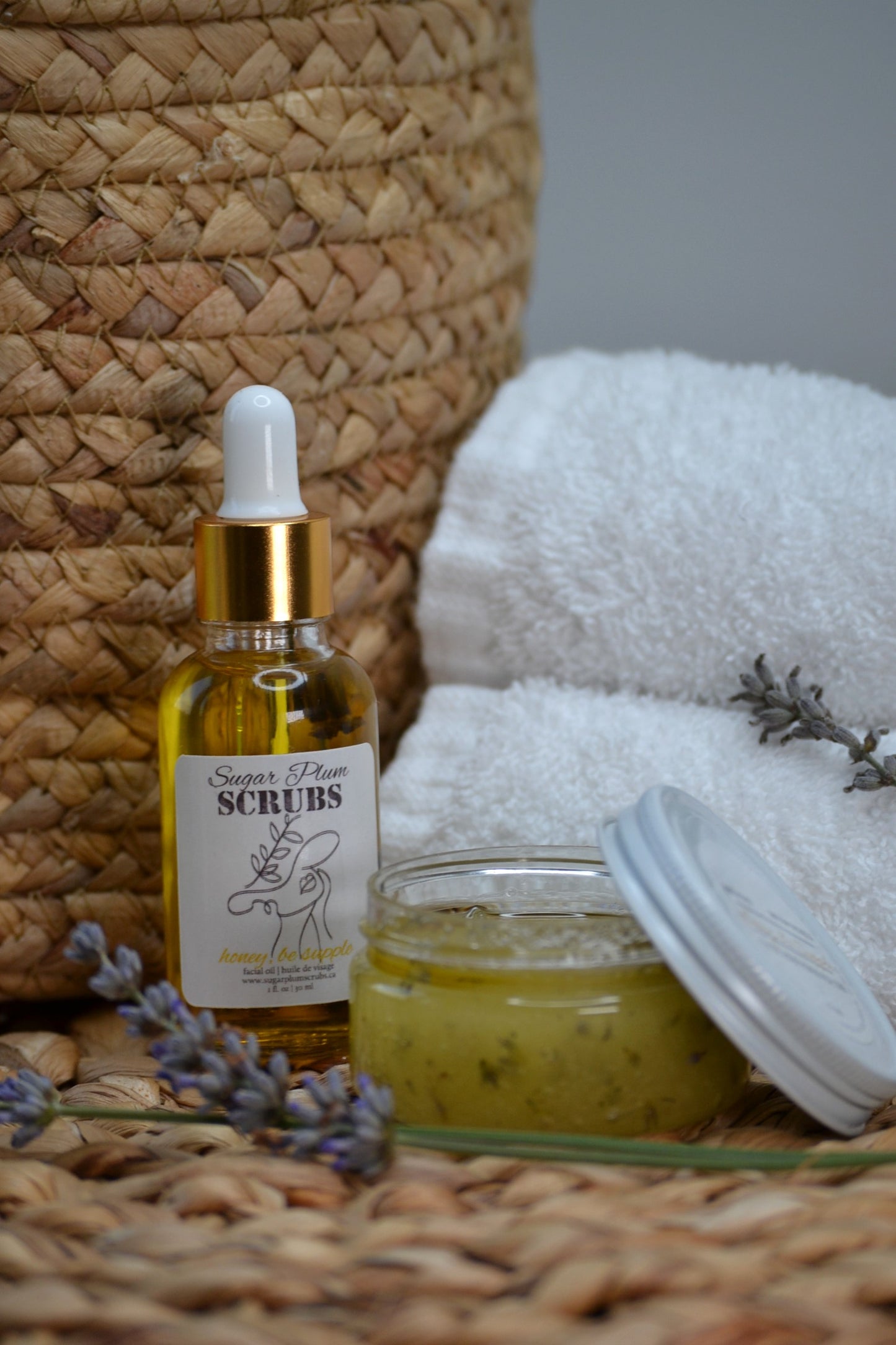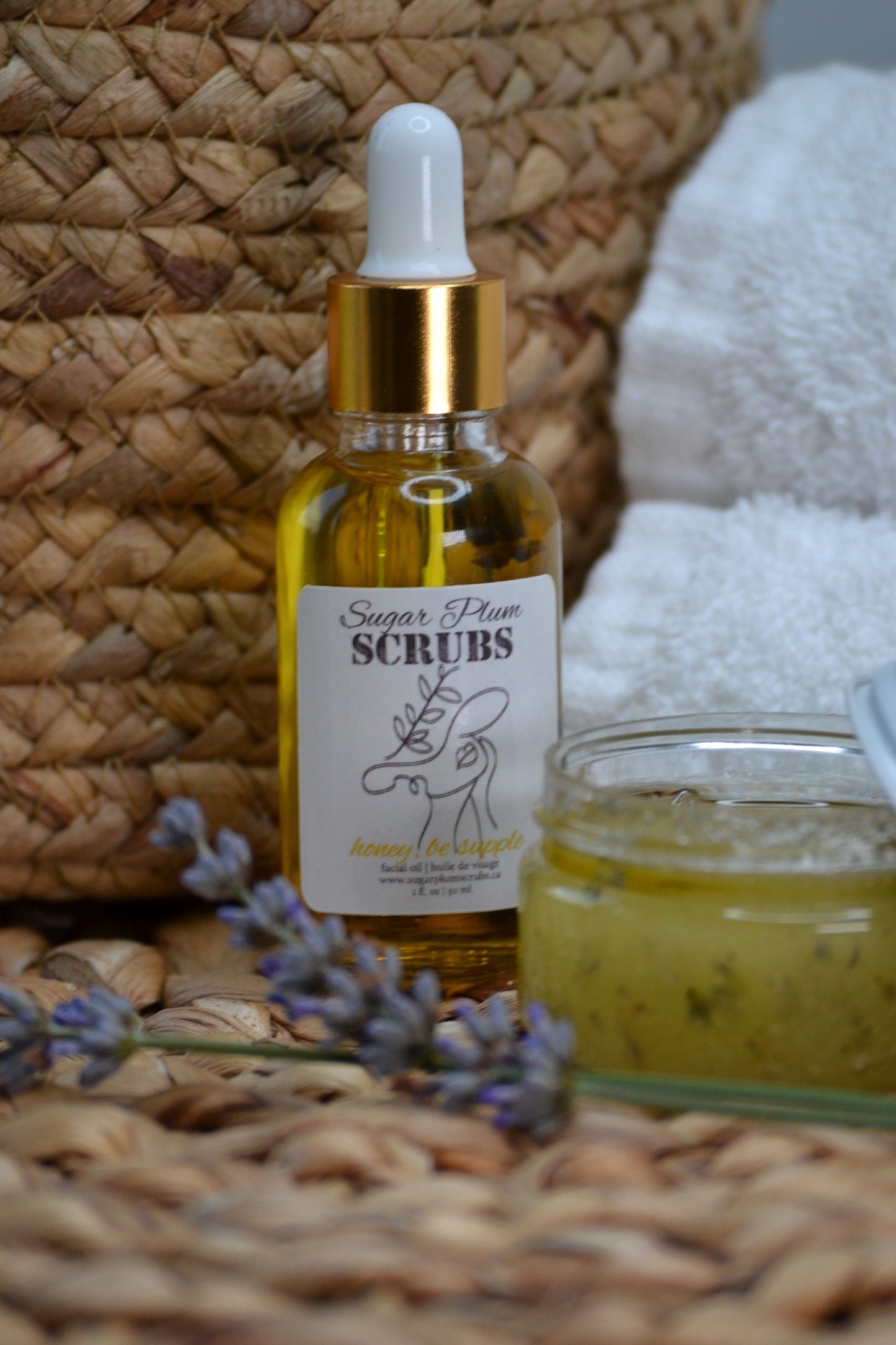 POWERFUL Combination.
This power-pack team makes my face super soft and smooth. I've had this duo for 2 weeks now, and I can already see the difference in my face. It's much more vibrant, my pores have shrunken, and the hyperpigmentation has decreased. I love that it does not have any harmful chemicals and products in it which are very damaging to your skin. Thank you @sugarplumscrubs
Supple Skin and Lips: Honey Be Supple Facial Duo and Ginger Mint Lip Oil
I've been using the Lavender Body Scrubs including the Honey Be Supple Facial Scrub for a while and decided to try the Honey Be Supple Duo because I wanted to try the Lemon Facial Oil. As per usual with the Sugar Plumb Scrub brands, the products smell good. The oil also absorbs very well into the skin, and I like how my skin looks and feels after I've used the duo. Did I say it smells good? The reason I wanted to try the Lemon Facial Oil was because of the results I got with the Ginger Mint Lip Oil.
I cannot say enough about the miracle that Ginger Mint Lip Oil performed on my lips. I began using it in January 2021 just to moisturize my lips before bed; I had no particular expectations about outcomes. A year later, I just happened to notice that some previous lip discolouration I had was almost non-existent. When I noticed this, I immediately reached out to Eshe to purchase some more. I find the night time use more effective and even in the morning my lips would still be moist. You cannot go wrong with naturally made products and Sugar Plum Scrubs delivers.
Beautiful experience!
I am so pleased with this facial skincare set! After using it, I absolutely see the difference on my skin! It has completely brightened my complexion; it's amazing! Thank you for creating such uniquely fabulous products. Since purchasing these incredible items, I have now become way more excited about my skin than ever before :)
LOVING THE SET!
I really enjoy the set used together and also separately. Sometimes I use the facial oil after my regular face wash routine but I always use the oil after I exfoliate with the scrub and it's a perfect pair!! Always happy and satisfied with the results!
Can NOT get enough!!
Let me tell you how AMAZING this stuff is. I have acne prone, combination skin with acne scarring. I use this every night in place of moisturizers and other serums. After my regular makeup removal process or nightly cleansing, I apply a generous amount but sometimes over do it because I cannot help myself. This has not clogged my pores like many other serums and moisturizers have, it has reduced my acne scarring and has literally been HEALING my skin. It leaves my skin feeling nourished, smooth, and soft.This is liquid GOLD. The scrub is gently yet effective, I use it twice a week but I could probably get away with using it 3 times because of how gentle it it. This scrub leaves the skin feeling fresh as it exfoliates the dead skin, makeup and any other gunk piled up in your skin. These 2 as a combo are heavenly but are amazing on their own as well. Oh and not to mention they smell delicious! These products truly help me relax and unwind. The price point for these types of products is a steal, serums and scubas that do not work half as well as these are double even triple the price. If you love serums and scrubs these are definitely worth trying out.