Regular price
Sale price
$22.00 USD
Unit price
per
Sale
Sold out
Shipping & Returns

Free expedited shipping on orders over $100

Satisfaction Guaranteed or get a Full Refund.

(No refunds on shipment costs)
Care Instructions

Here are some tips to help you keep your products fresh for longer.

Make sure to store your body scrubs in a cool dry place. Cover your oils and scrubs after each use. Discoloration and change in consistency is normal with natural products but if you notice unusual smells or growths in your containers, throw away immediately.
Get ready for a refreshing summer treat with our Lemon Merengue - Lemon and Lavender Body Scrub! This invigorating scrub will reveal a healthy, glowing complexion. Infused with home grown lavender and lemon essential oil, this scrub gently exfoliates dead skin cells while leaving your skin feeling soft and smooth.
Lemon is effective against strains of bacteria that may get trapped in pores and cause breakouts. It also contains antioxidants that can help reduce the appearance of fine lines and wrinkles, leaving your skin looking youthful and radiant.
The sweet, tangy scent of lemon essential oil is great for uplifting your mood and is also known for helping to boost brainpower, making this scrub the perfect addition to your morning routine.
Each jar contains 4oz of sweetness that will leave you feeling refreshed and revitalized. You may be tempted to eat this one as it smells exactly like lemon meringue pie. 
Share
View full details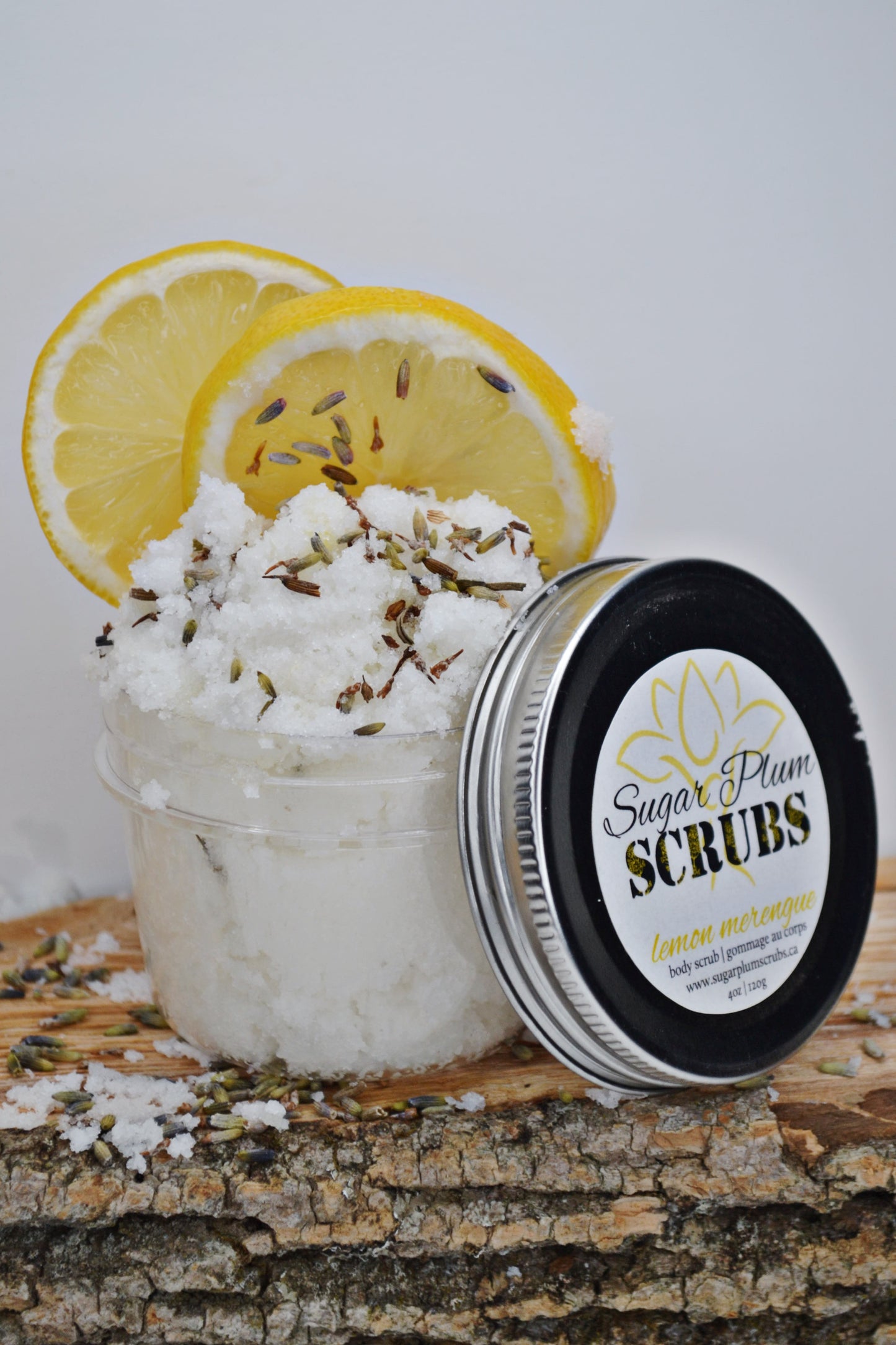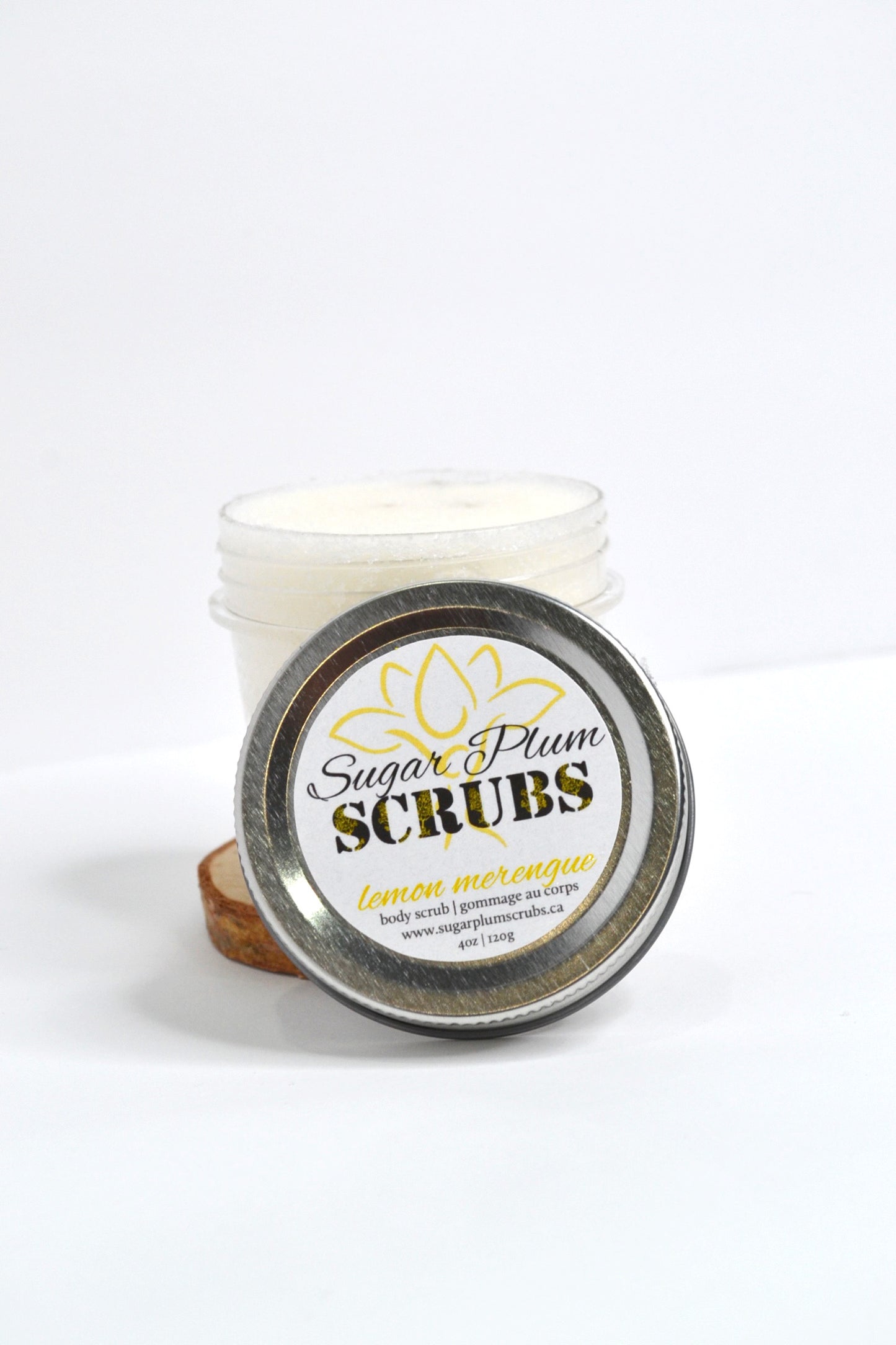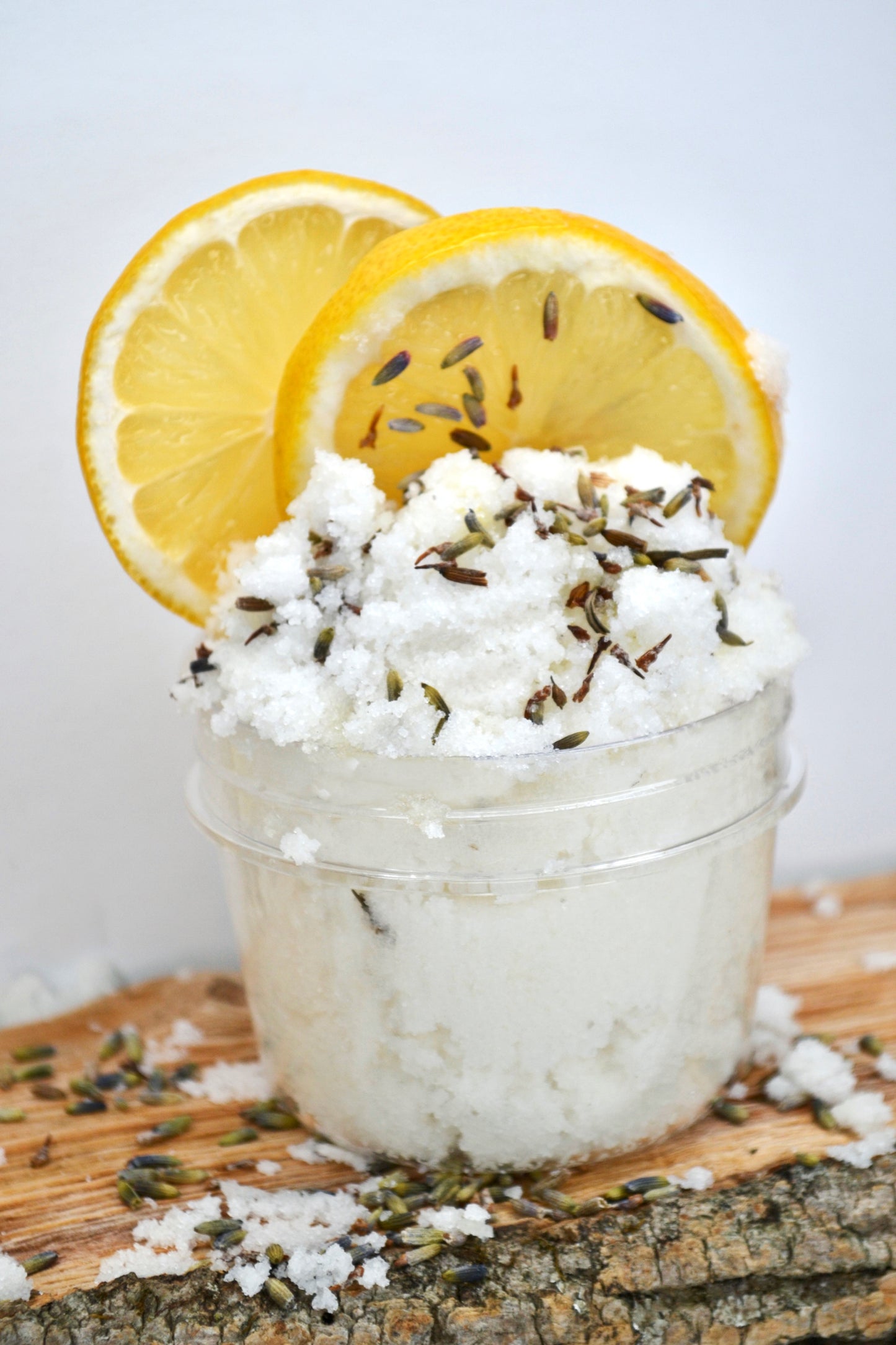 If somebody is looking for renewal, this is it.
It was great. I love it. It wasn't too abrasive. I used it on my whole body and the feeling afterward isn't too overly oily. I love the smell it is so refreshing! I also love the little scooper.
Love, love, LOVE! :) My New Go-To!
I absolutely love this sugar scrub! Initially, I had been looking for a scrub to incorporate into my self-care routine and overall hygiene. Not only does it exfoliate your skin, but it leaves you feeling moisturized. I use it a few times throughout the week for both my body and face.
It's great for my eczema and helps my skin overall; like some of the breakouts/dry patches on my face. In one instance, I exfoliated my armpits and completely forget to put on deodorant (lol). There was virtually zero smell, leaving my skin soft and supple!
In addition, the scent is just right, not too overpowering, but still lemony sweet and aromatic as I apply it, whether in the shower or at my bathroom sink. A little bit goes a long way, and it's pure quality (no weird additives or unicorn glitter, not that I'm against unicorn glitter!). Therefore, it's definitely worth the price.
I've also had the pleasure of meeting the creator/owner of Sugar Plum Scrubs. She's such a kind, generous soul! As someone who's also looking to create my own business, she has been like a mentor to me. Honestly, (and I mean this with all sincerity, "no cap" as the kids say these days) Sugar Plum Scrubs will forever be my go-to place for body/facial scrubs.
Amazing Product
This face scrub is my absolute favorite on the market. Incorporating it into my daily skincare routine has been transformative. It does more than just cleanse your skin and clear blackheads - it also retains your skin's moisture and imparts a healthy glow afterwards. It's a multifaceted 3-in-1 product. I highly recommend it.
So Fresh N So Clean
As a Black man, this scrub was my gateway drug to self care routines. I loved scraping away all the toxins/bacteria and feeling revitalized afterwards. Not to mention, the whole process surrounded me with a sweet lemony scent in the air.
I recommend this product for anyone who wants to refresh their mornings and walk around with a healthy, moisturized glow throughout the day.
Keep it coming!
P.
Very Good
I use it for my hands and feet. When I came back from vacation I had a bad sunburn and used this to help with the peeling. Made my skin feel very soft.