Regular price
Sale price
$22.00 USD
Unit price
per
Sale
Sold out
Shipping & Returns

Free expedited shipping on orders over $100

Satisfaction Guaranteed or get a Full Refund.

(No refunds on shipment costs)
Care Instructions

Here are some tips to help you keep your products fresh for longer.

Make sure to store your body scrubs in a cool dry place. Cover your oils and scrubs after each use. Discoloration and change in consistency is normal with natural products but if you notice unusual smells or growths in your containers, throw away immediately.
Indulge in the ultimate relaxation experience with our Lavendula Tea Lavender and Tea Tree Body Scrub. Say goodbye to toxic hair removal methods and hello to smooth, soft, and rejuvenated skin. Our scrub is specifically curated with anti-inflammatory and anti-bacterial properties of Tea Tree Essential Oil, which helps prevent body odor and will leave you feeling cleansed and refreshed.
To use, simply wet your skin with warm water, lather on the scrub, and enjoy the soothing aroma of lavender as you let the steam carry the scent throughout your bathroom. Shave off the scrub and then rinse your skin with cold water to tighten pores. Pat dry with a clean towel and feel hydrated and smooth immediately.
Not only is our scrub great for intimate body areas, but it's perfect for a full body spa treatment too. Made with pure cane sugar, coconut oil, crushed lavender, and tea tree essence, our scrub effectively cleanses and rids your skin of dead skin and product build-up.
Use the Lavendula Tea Body Scrub 2 days before waxing in order to hydrate, protect, and prep your skin for hair removal.
Don't settle for harsh hair removal methods that leave your skin feeling dry and irritated. Upgrade to our Lavendula Tea Body Scrub for a luxurious and relaxing hair removal experience. Store in a cool dry place for lasting freshness and consistency.
Share
View full details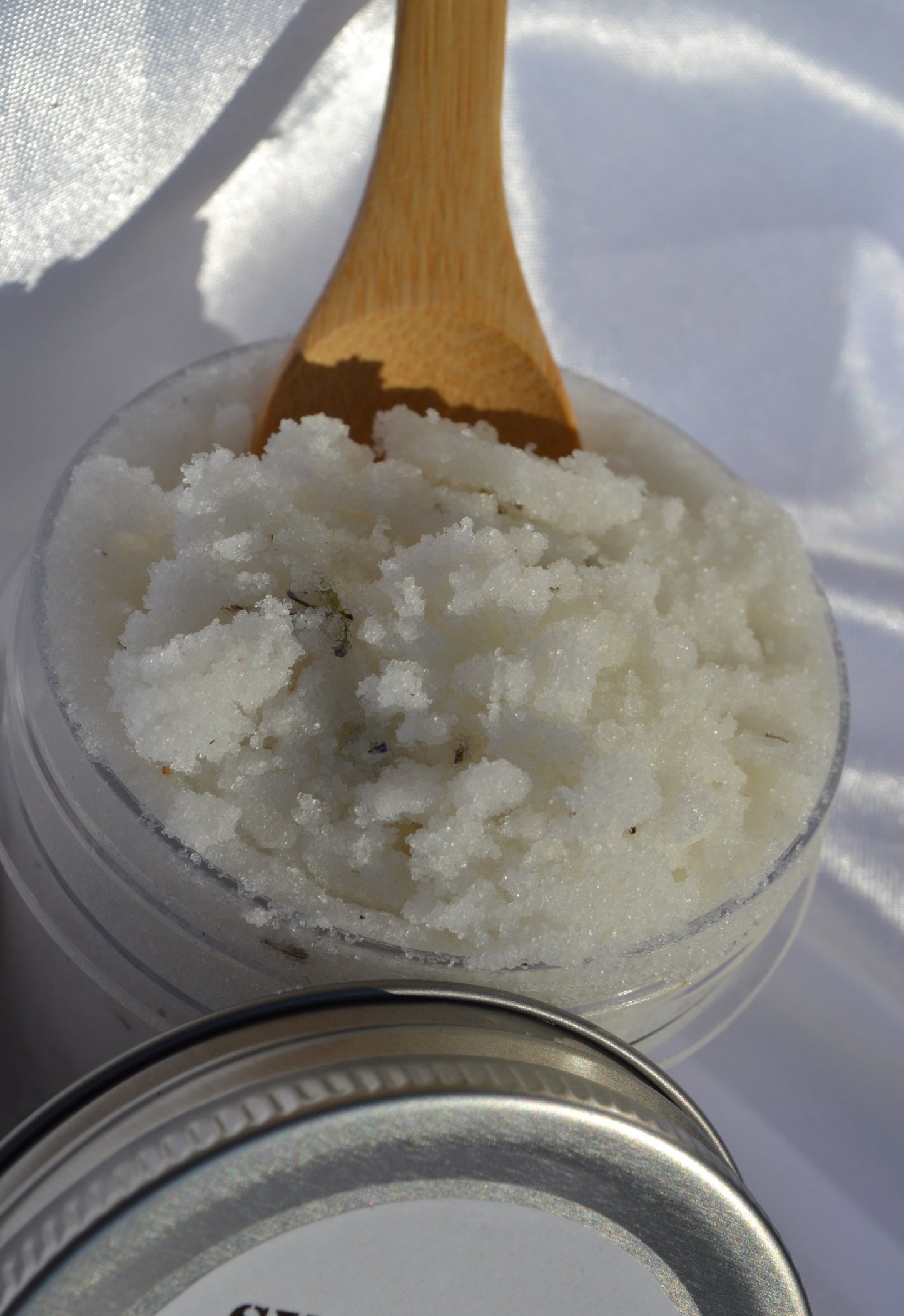 10/10
I was looking for a scrub without plastic and was kind to my pocket. This scrub is incredible. It leaves my skin soft and refreshed. I leave it on for a few minutes while showering and have baby soft skin following application. It is the best facial scrub I have ever used and it is also kind to my skin. I will not use anything else again - kind to skin and the environment.
Highly recommend
I recently tried out the honey, be supple facial duo- this product is a game changer. The exfoliants works wonders to gently slough away dead skin cells and impurities, leaving my skin smooth, soft and revitalized. I appreciate the natural ingredients like olive oil, lavender and sweet almond oil to list a few, plus the refreshing scent is a added lovely bonus.
The oil product is simply divine, the scent is calming and soothing, which makes it the perfect combo for my nighttime self care routine.
Overall I highly recommend The honey,Be supple facial duo.
Conditioner
The products I got were great! I'd recommend to a friend!
Wonderful Scrub!
Love the scent, love the product! It's not harsh, and it is very relaxing. Try it out!
Amazing product for men's skin
This was great to use for washing my skin after I shaved. It exfoliated and moisturized it at the same time. I really liked the scent.