Regular price
Sale price
$19.00 USD
Unit price
per
Sale
Sold out
Shipping & Returns

Free standard shipping on orders over $75

Free expedited shipping on orders over $100

Satisfaction Guaranteed or get a Full Refund.
Care Instructions

Here are some tips to help you keep your products fresh for longer.

Make sure to store your body scrubs in a cool dry place. Cover your oils and scrubs after each use. Discoloration and change in consistency is normal with natural products but if you notice unusual smells or growths in your containers, throw away immediately.
Start your day off right with our invigorating peppermint and lavender infused body scrub. Slough off dead skin, and prevent fungal infections with the anti-fungal properties of peppermint.
Peppermint and Lavender can offer unique benefits when added to your skincare routine. Our premium peppermint essential oil blend helps to control oil production, and reduce inflammation preventing breakouts and hyperpigmentation. The added lavender is known for having calming and soothing properties which you can experience immediately upon inhalation. The combination of the two can offer stress relief, in the form of therapeutic aromas. 
Use our scrub at least three times a week to achieve supple, hydrated skin that feels deeply cleansed and refreshed. 
Made with pure cane sugar, nourishing coconut oil, dried lavender, and rejuvenating essential oils, our scrub is the perfect addition to your relaxation and aromatherapy routine. So, pamper yourself and include the Refresh-Mint Body Scrub to your self-care routine today. 
Share
View full details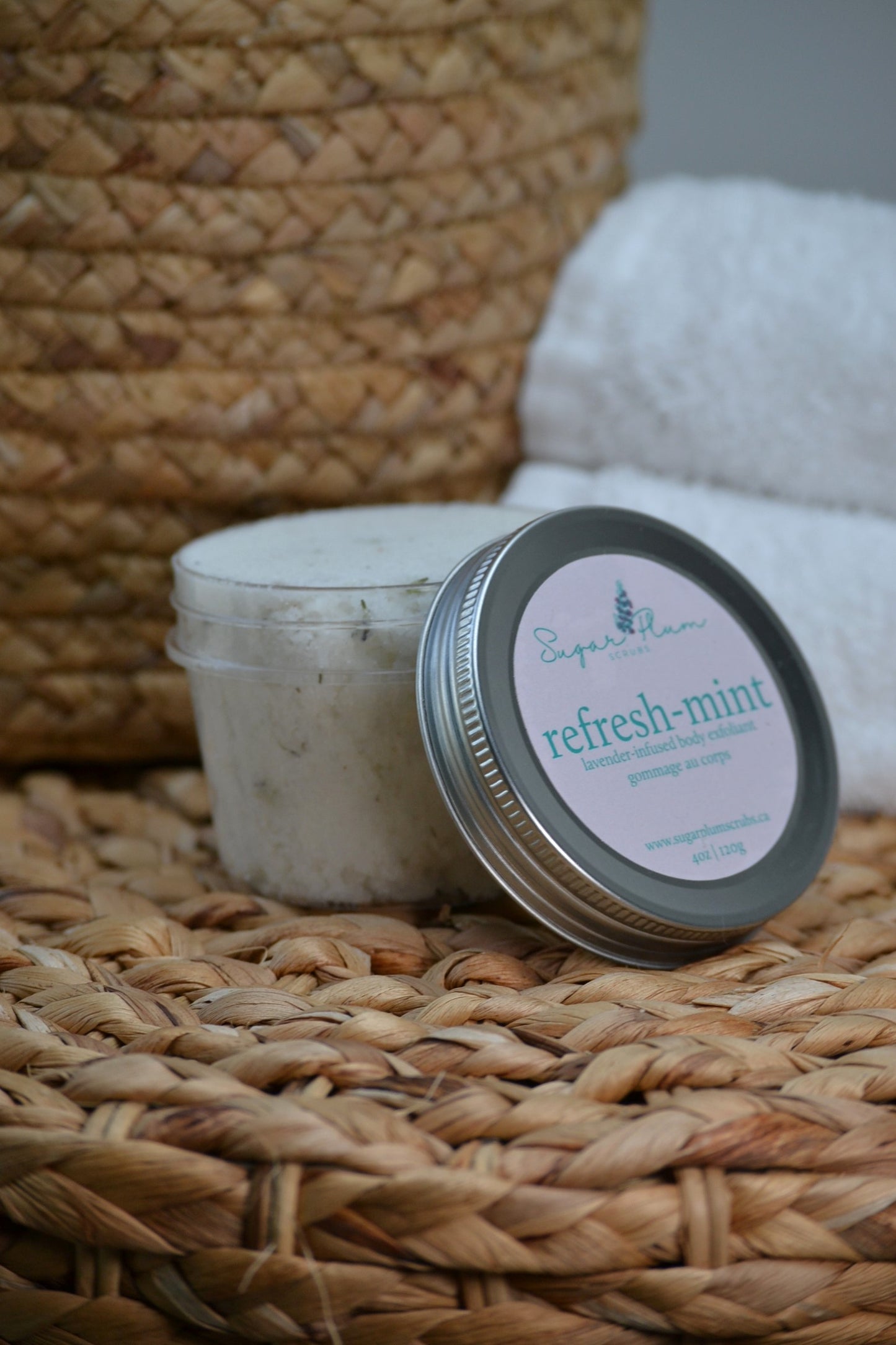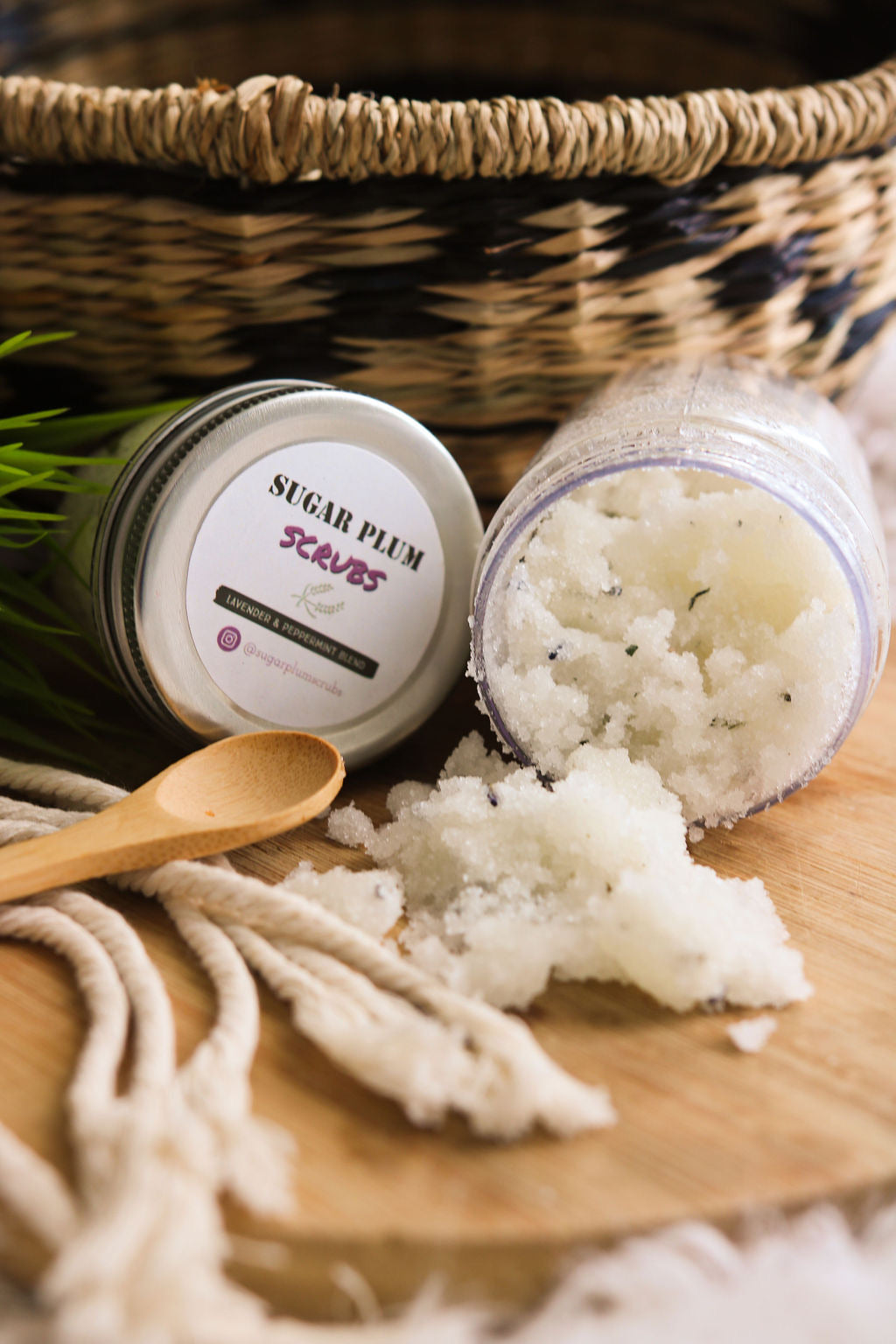 Amazing product! Highly recommend.
Great service, fantastic product!
We purchased scrubs as gifts for our staff and as well for parents in a group we run. Everyone needs an excuse to pamper themselves from time to time. And this is not just for the ladies. The reviews have been slowly trickling in to Wow! Amazing! Natural and yummy scents! So thoughtful! Fun to use! My skin feels so much better afterwards. I personally was intrigued by all of the various scents and just had to keep one of each for myself ;) Keeps the skin smooth which is so important during the winter months. Keep up the great work Sugar Plum Scrubs!
AMAZING
This scrub is amazing, natural and very high quality!! It makes your skin so soft while not leaving behind the residue or the feeling of stripped oils on your skin. ONe of the best-quality scrubs I have ever used.
Amazing(Nzuri sana)
All the was from Tanzania. I used this scrub and all i can say is AMAZING. It smells like heaven, it gives the right amount of scrubbing strength and leaves the skin smooth and moisturised. On top of it all its very organic and i love the fact that i could see all the herbs in it.
Asante sana Sugar Plum Scrubs kwa kutuletea bidhaa nzuri.
Karibu Tanzania.
Amazing
I used the Refresh-Mint - Peppermint and Lavender Body Scrub to shave and as a body scrub. I was extremely happy with the outcome. After a long day of work, the scrub does its magic leaving the skin feeling amazing, smooth and relaxed. I highly recommend the scrub to anyone looking to exfoliate their body, a product which is perfect for shaving and one which also helps with a good night sleep.